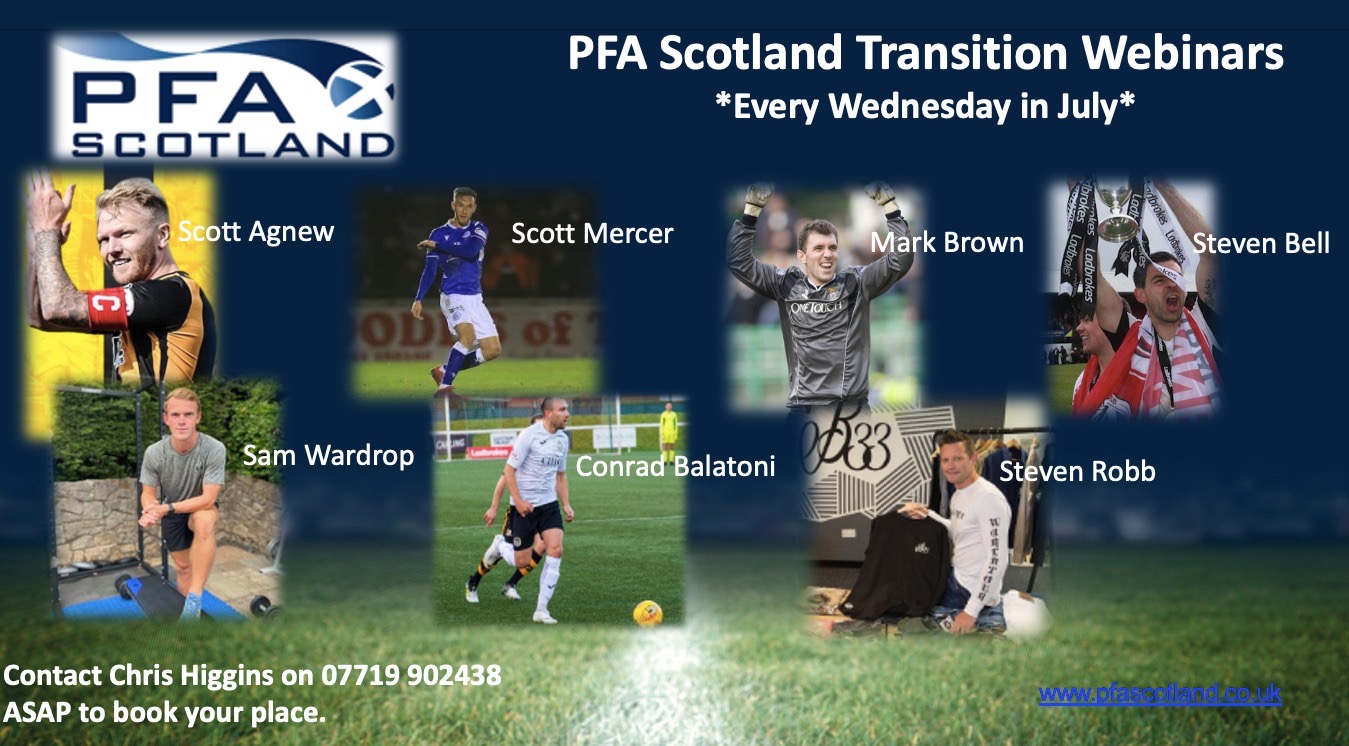 We are delighted to announce that for the whole of July we will be hosting a Transition Month.
With so much uncertainty still surrounding football, our Personal Development Officer Chris Higgins has been working hard putting together a series of online webinars and free or PFA fully-funded courses to help our members start planning for, or make the step to, a second career.
It is more important than ever to have a Plan B, whether that is to run alongside playing full or part-time football next season, or to start foundations for a future away from the game a year or two down the line.
As part of Transition Month, every Wednesday throughout July we will host webinars with players who have made the transition to a new career – some of whom are still playing at a high level.
Among the guests will be Fitness Group owner Scott Agnew (East Fife), successful PT Sam Wardrop (who is also doing a law degree whilst still playing), Edinburgh City's Conrad Balatoni who has his own financial planning business, ex-Ross County/Dumbarton/Hibs goalie Mark Brown who joined the Police and Ayr United captain Steven Bell who works full time in social care along with his playing commitments.
Last week we sent out details of a 5-day intensive fully-funded Tiling Course, that will be running from Monday 6th July to Friday 10th July, which is now fully booked.
As well as the Tiling Course, over the course of the month there will also be:
IT Skills Courses (starting Monday 6th July)
CV Writing Courses (a 1-day course on Monday 13th July)
Quick hit Job/Employment Opportunities emailed/WhatsApp'd out to members
Over the next few days we will send out more details of the individual events so you can find out more information and get booked in for the various webinars and events.
Any questions, or to book yourself on one of the webinars or courses, give Chris Higgins a shout on 07719 902438.